Having a lot of money doesn't eliminate marriage problems, but money problems can definitely lead to some serious problems in your marriage. Money issues are one of the leading causes of marriage problems, so it makes sense for couples to be proactive in getting on a budget and getting on the same page on all things related to money.
Many couples live paycheck to paycheck and need some extra cash to make ends meet. Getting an extra job, or even a different job, might be an option, but for many, it isn't. Where can you find some extra cash? You might be surprised what shows up if you consider these eight steps.
Regardless of where you are on your financial journey, if you found $500 buried in your dresser drawers, you could probably think of something productive to do with it. Whether you are working through paying off debt, saving for a large expense, or growing your retirement nest egg, that extra money can go a long way. There are only two ways to increase the amount you can save for these goals: spend less or make more. Here are eight ways to save more and spend less by finding some extra money in places you may not have been looking.
1. Get Organized
Before you can find something, it usually helps to start looking. It takes focused effort to get organized with money, and it is not easy. But it is simple, and it is worth the time and energy.
First, track your spending. Get your bank statements from the previous two to three months and put every expense in a category, food, housing, kids activities, gifts, utilities, entertainment, etc. No judgment at first, just numbers.  Then evaluate those expenses by asking questions.  Is it necessary? Could I have saved that money instead? What is that? And why are we paying for it? You might find some monthly expenses you lost track of or forget about. Then you can begin cutting the chaff.
2. Cancel Subscriptions
We are a society of content consumers, and the choices are endless. Now that you are getting organized, you might find that you are subscribing to far too many streaming services. If you have Amazon Prime and Apple TV+, are you sure you need Disney+, Hulu, Netflix, Paramount+, AMC, HBO, FUBO, Youtube Premium, Youtube TV, or Peacock?
Try limiting the next month to one or two services. What about the audiobook subscription you haven't used yet this year? Call the service and ask for a refund of the previous month (they often grant these requests), and then cancel them. They will always be there next month if you decide you cannot live without them
3. Mobile Phone and Internet
Now that all of your bills and expenses are right in front of you, you might notice that you have been paying the same price for the same phone service and internet for months or even years. Good news: companies are constantly offering new plans and incentives to retain current customers and acquire new ones, and technology is changing all the time.
Find out if you can get a better deal switching to a new provider, or if your current provider offers a plan that suits your needs better than your current plan. If you threaten to leave your current service, they will work very hard to keep you as a customer, and you can save more than you expect on these monthly bills. It is wise to go over these expenses with your providers at least once a year.
4. Insurance
Here is another expense that you may not have looked into for some time. While there can be some savings to squeeze out of this, it is more important to make sure you are properly covered in home, auto, renters, and personal property in order to protect your family and assets. For a detailed explanation of the value of insurance, check out this video series prodcued by the Ramsey organization – https://www.ramseysolutions.com/insurance/confidence
While going through the process of looking at other providers and coverage options, it is common to find ways to save through bundling services, or switching to a new provider. It is worth looking into the services of an independent insurance broker who will do the research for you. They want you as a customer and will work hard to make sure you get the proper coverage at the best rates. But make sure they have the heart of a teacher when you speak to them and that they are helping you understand the boundless complexities of this industry.
5. Discounts through employers and organizations
Your employer may offer discounts on services you use regularly or items you need to purchase. Universities, school districts, and local governments tend to offer benefits to their employees that many do not even realize. Private companies are increasingly adding these to their available benefits as well. Check with HR for help in taking advantage of these offers.
If you are a member of a union or a guild, discounts are commonly offered as a benefit to members as well. This may also be true for other local organizations to which you pay membership dues.
Do not simply buy a service or item in order to get the discount. That doesn't actually save you money. But if you need a new laptop, for example, and have the necessary cash, then take the 10% discount offered through the company.
One school district I work for part time offers discounts on moving, apartment rentals, hotels, rental cars, mobile phone service, gym memberships, assorted retail stores, childrens' swim school, and much, much more.
6. Buying groceries in bulk
If you have a Costco or Sam's Club membership, it may not be a money saver to do 100% of the grocery shopping at these retailers.  But certain items are certainly better to buy in bulk. This can take some research, meal planning, a little bit of math, and trial and error to make sure you get the most out of the bulk items before they spoil.
Consider bulk shopping for the following items: Meat can be stored in the freezer in meal sized portions and last for weeks. Two dozen eggs at Sam's is much cheaper than the local grocery chain. Coffee, cereal, canned goods like beans and tomato based products, and regular cooking ingredients are all examples of bulk purchases that can pay off in the long run.
Don't forget to treat yourself to an inflation proof hot dog or pretzel as a reward for saving on bulk groceries.
6B. Pack your lunch
Do you pack your kids' lunches for school? If so, it would not be much more difficult to find a simple meal to prepare and add it to the assembly line in the morning or the night before. You may be able to store the ingredients in the fridge at work and make it there during the lunch break. Bulk grocery shopping can aid in the savings.
Headed out on a family road trip? Pack meals for the road. It is easy to drop $30-40 at a fast food restaurant. That amount can pay for three to four packed sandwich lunches for the family.
These are small cost saving steps, but they strengthen the discipline muscles and have the bonus of being healthier and bringing the family together.
7. Sell your stuff
While you are taking care of financial spring cleaning, do some spring cleaning at home and take inventory of anything you no longer use or need. Take everything you no longer need and place it in categories to either give away to charity or to sell.
If you itemize deductions on your taxes you can write off any donations to places like Goodwill, The Salvation Army, local ministries, or organizations. Keep good records of every item, and they will provide you with a receipt to hang onto for tax time.
If you think your items are worth something, you're probably right. Old furniture, appliances, musical instruments, collectibles, books, and some electronics like old mobile phones will have value to someone. You just have to find each other. Facebook marketplace is quickly becoming the default place to connect your junk to a new owner (with no fees). Once you've agreed on a price, choose a public meeting place, bring your spouse or a friend, and make the exchange for cash. It is often just that easy.
8. Get on a written budget every month where every dollar has a purpose.
This is the big one. Without a monthly written budget where all of your incoming money has a purpose assigned to it, and the balance zeroes out, we are all just crossing our fingers and hoping there is enough money to somehow cover our expenses. Without a written budget, all of the cutting and saving we just discussed is merely theoretical. Every financial plan requires a budget, whether it is the federal government, a large corporation, a small non profit, a school district, or your home and family. Make this a top priority! My favorite budgeting tool is EveryDollar. There is a free version, and you can try it out here.
Once you create your budget based on all of the expense tracking you just finished, you might find you have money leftover after all of your expenses are covered.  If that is you, congratulations! You just gave yourself a raise! The fun part is figuring out what to do with your extra money.
If you'd like some help getting on a budget and getting on the same page with your spouse, I'd love to help. You can click the link below to schedule your FREE consultation.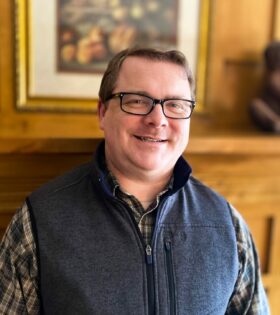 Ben is a certified Ramsey Financial Coach and provides Financial Coaching to couples through Marriage Revolution.